The guests wait in anticipation for the NYC Opera Renaissance's condensed version of "Carmen" . From left sitting Sophie Kalkreuth of Luxe Inc., Judy Sahagian of Judy Networks, David Drake, actress Inga Leps and Michael Capasso, NYCO Renaissance General Director, standing.
May 30, 2015 UPDATED Dec 06, 2017Article, originally published at Huffington Post
By David Drake
The currently on-the-market $38 million triplex penthouse with roof terrace was the delightful and beautiful setting for a wonderful evening, both for the NYCO Renaissance which presented a special 45-minute version of Bizet's "Carmen", and for ARCHIVE Global, headed by Peter Williams, a charity focused on improved health and reduction of disease through architectural design in developing countries.
Peter Williams, Michael Capasso, Roy Niederhoffer and David Drake with Jen Bawden, Founder & CIO of Bawden Capital, sitting to the right with sculptor Nina Winters.
While it awaits final approval from the bankruptcy court to operate as "New York City Opera," NYCO Renaissance is presenting events to raise funds for its upcoming season. Most notably, a recent Gala featuring Plácido Domingo and 25 other performers raised over $800,000. Roy Niederhoffer, the company's Chairman said, "For seventy years, the New York City Opera played a crucial and indispensable role in the cultural life of New York and the world. I am personally committed to leading this effort to revive this historic company on sound financial footing."
The guests during cocktails.
The first week of May held an opportune moment for me. Roy called me from Las Vegas where they were attending the Salt conference to say that their May 15 event was postponed by its corporate sponsor. Six artists were still booked to perform but there were no guests, no location, no catering and no press. By a stroke of luck, and thanks to developer Paul Scialla at Delos, I managed to find this $38 million triplex penthouse.
The living room
Hearing fully fledged opera singers who have trained to sing in large halls perform in a much smaller space was both overwhelming and moving. The audience was mesmerized by the vibrant voices reverberating through the halls and between the pillars of the penthouse.
Don Jose played by Michael Morrow and Carmen by Elise Quagliata Treuiller
Bizet's Carmen is filled with many of the most beloved melodies in all of opera, and this 45-minute, condensed version included all the popular favorites, Carmen's famous "Habanera" and "Seguidilla," Escamillo's rousing "Toreador's Song," Micaela's touching aria "Je dis" and the harrowing final duet between Carmen and her lover Don Jose. Michael Capasso, a producer of opera for more than 30 years and NYCO Renaissance General Director, said, "It's my life's work to bring this timeless music and drama to a new audience."
The cast of last Friday's extraordinary performance of Carmen was: Elise Quagliata as Carmen, Michael Morrow as Don Jose, Inna Dukach as Micaela, Darren K. Stokes as Escamillo, Kristee Haney as Mercedes, Allison Pohl as Frasquita, and Mark S. Cartier as Lillas Pastia.
Don Jose waiting for his Carmen
Carmen
Carmen and Don Jose in a prelude to their duet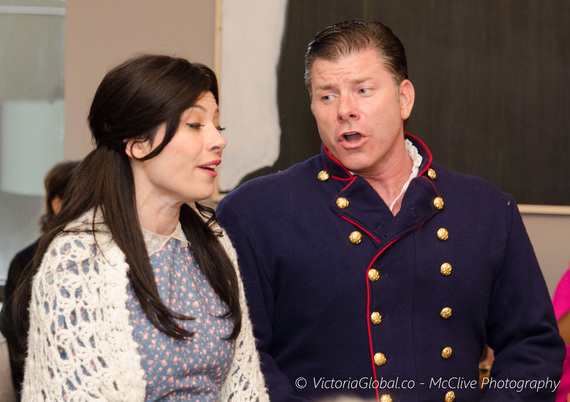 Inna Dukach and Michael Morrow sing the duet of Micaela and Don Jose
Escamillo, played by Darren K. Stokes, after he sung "A Toreador's Song"
"A Gypsy Song" by Carmen, Frasquita and Mercedes
(Elise Quagliata Treuille, Allison Pohl and Kristee Haney, respectively)
Mark S. Cartier as Lillas Pastia served as the Narrator
Judy Sahagian (JudyNetworks), to the left in red, and Inga Leps (actress, writer and Art Advisor at Leps Art Advisory), to the right, enjoy the show as I get the rare chance to interact with one of the singers, Allison Pohl, and be a part of the performance.
Our evening spent listening to these operatic voices was intimate and unforgettable. The next performance of this short version of Carmen will be June 5. NYCO Renaissance anticipates the launch of the Opera season at Lincoln Center's Rose Theater in 2016. Hopefully, as the season starts, many more New Yorkers will once again be able to enjoy the People's Opera.
Roy Niederhoffer, NYCO Renaissance Chairman of the Board, with wife Jenny
Joanna Scholl of HBO and NYCO Renaissance General Director Michael Capasso
Christine Lee, Managing Director of
MavenSage Strategies, Inc
Judy Pareti of RMS and Kevin Davis of MineVest enjoying the performance
Stephanie Fang of Fendi, Gloria Assou and Jenny Niederhoffer
Diana Andrea; Otilia Aionesei, Director of Business Development at I-Billionaire; and Ian Shapolsky, Group Publisher of Times Impact Publications
Michael Felman, Director at LDJ Capital, Arilda McClive, Miriam Araujo, Associate Director at Coldwell Banker Commercial Alliance in New York, Alex Felman, Managing Director at Felman Family Office and Su Jung Ko, Senior Associate of TozziniFreire Advogados
Moritz Gruban, Peter Williams and Jack Wiener
This moving scene from Bizet's "Carmen" blends well with the intimate setting